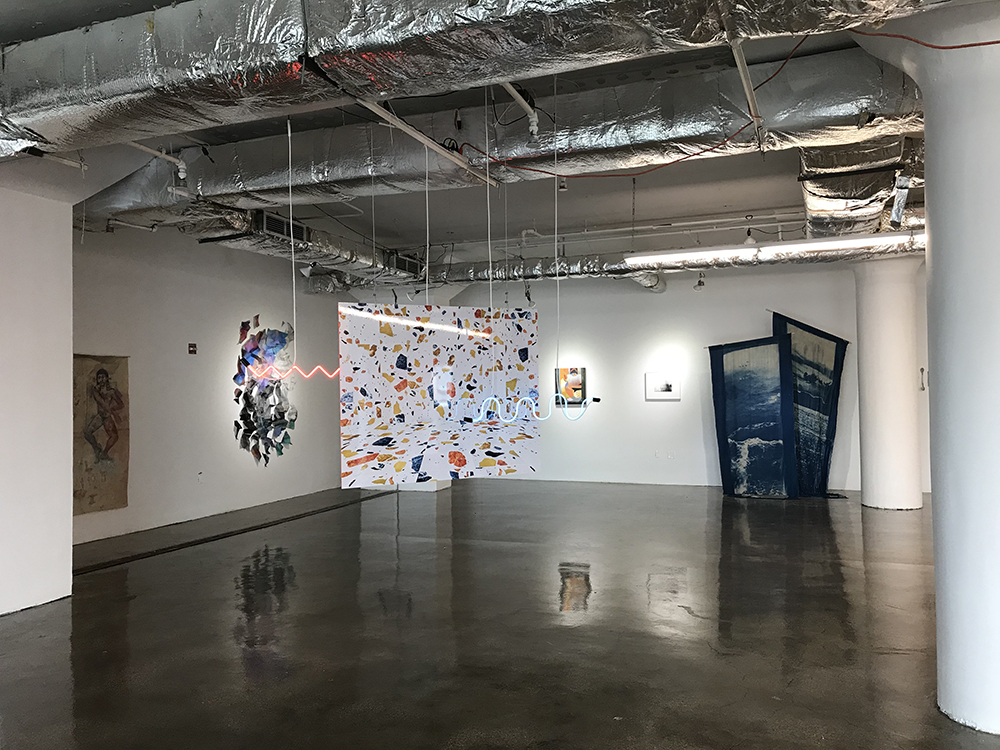 This is Not Here is the 21st installation of RE: Art Show, a revolving and evolving series of curated projects run by Erin Davis and Max C Lee. The project has a mission of utilizing defunct and industrialized spaces to house experimental and hybrid exhibitions featuring young artists who aren't shy about pushing boundaries and taking creative risks, often times in consideration of the physical spaces that house each show. The RE platform has developed a reputation for bootstrapping around the financial challenges that come with operating in New York, and has adopted an improvisational and flexible modus operandi that makes each new iteration of RE: Art Show fresh, new, and unexpected experience.
Curated by Efrem Zelony-Mindell, This is Not Here is a carnivalistic dance that spins and twirls with eclecticism and unpredictability. It presents a collection of paintings, installations, and photographic works that reflect a broad pluralism of ideas, concerns, processes, and materials. Likely by design, the show follows no rules and includes 57 artists whose works, on the surface, are only bound together by the room they share. This is Not Here feels like a celebration of artistic diversity; a gathering of artists who all bring a dish to pass.
Introducing the show is Zelony-Mindell's free-wheeling curatorial statement, a work of art in itself which, rather than contextualizing the show, destabilizes it, even disregards it, and takes readers on a journey of sex, ego, and his own echoing mind. It's a hoot. Click here to read it, but be warned that you may never be the same.
On the occasion of This is Not Here: RE: Art Show 21, we've asked the photographic artists in the show to offer some insight on their work, and in their own words.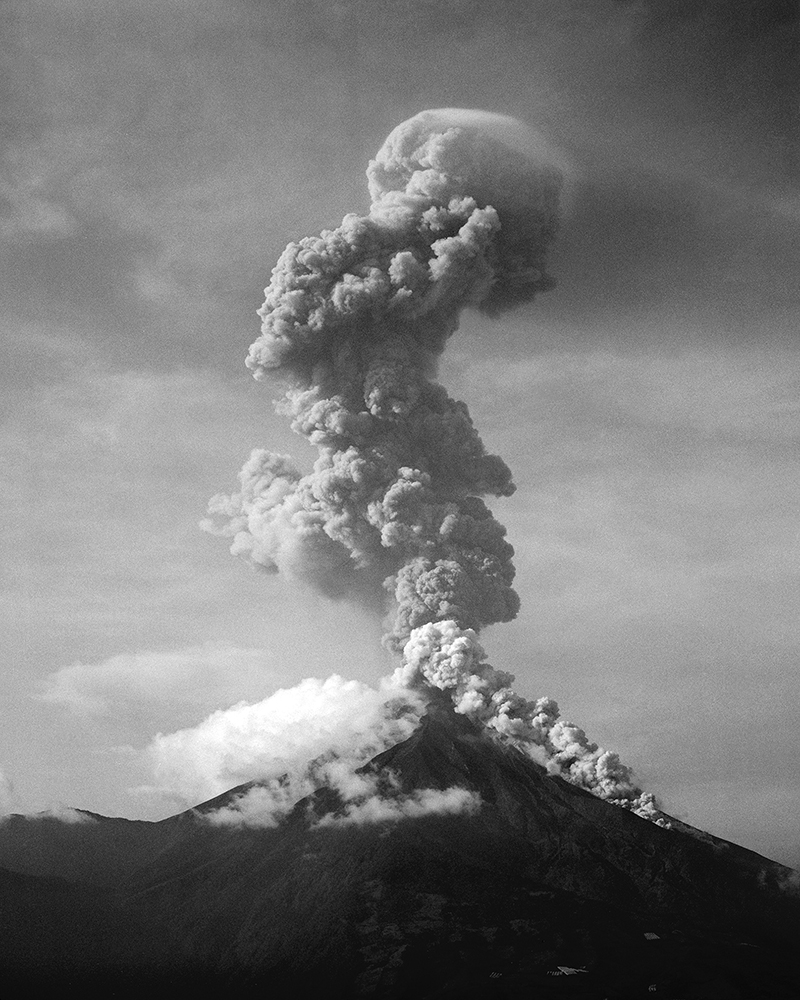 ATHENA TORRI
My work explores the interconnectedness of human activity and geological tempest. The work from Land of Opportunities displayed in This Is Not Here: RE 21, documents the 2016 eruption of the Ecuadorian volcano, Tungurahua. As an Ecuadorian native my work investigates the legacy of colonialism in Latin America by tracing the effects of historical disenfranchisement on modern-day ecological and human landscapes. By utilizing commonplace mediums like cinder blocks, I explore the ways in which various forms of visual information transmit historical "truths". I believe that when we interact with something that is familiar to us, it changes our perspective on what is "true."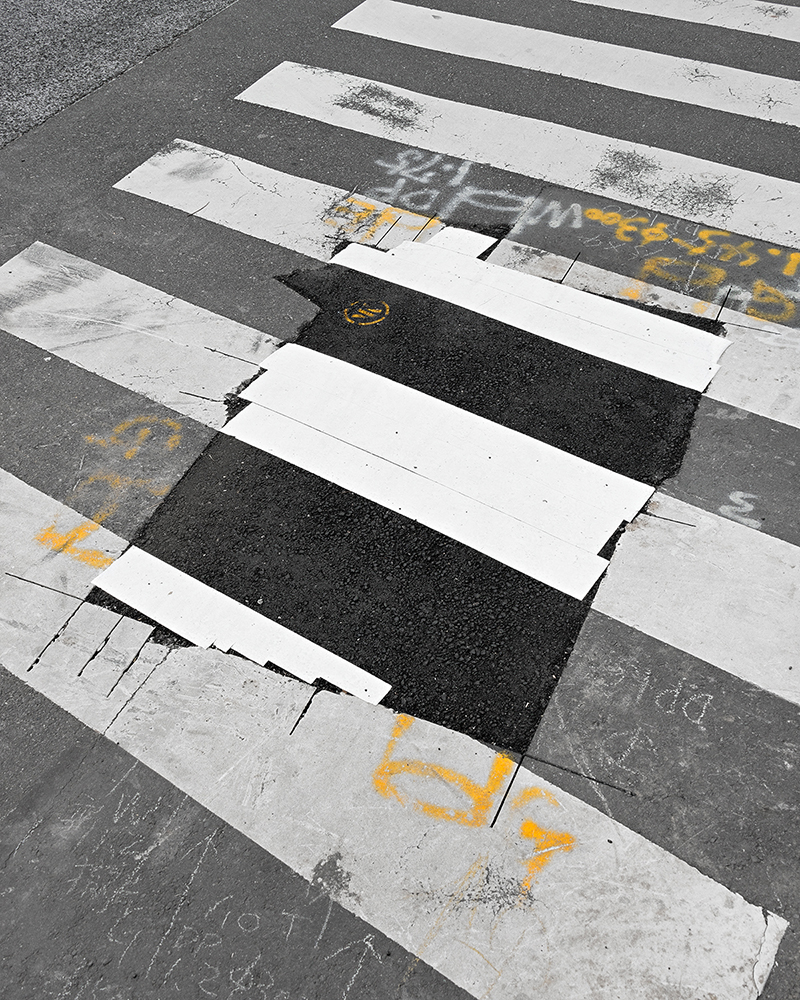 DANIEL EVERETT
Marker is a body of work focused on the unintentional aesthetics of progress and the marks left behind from the systems we use to build and arrange space. Over time systems stack on top of systems and blur into one another. To organize something is to make it disappear, and order has a lingering sadness to it.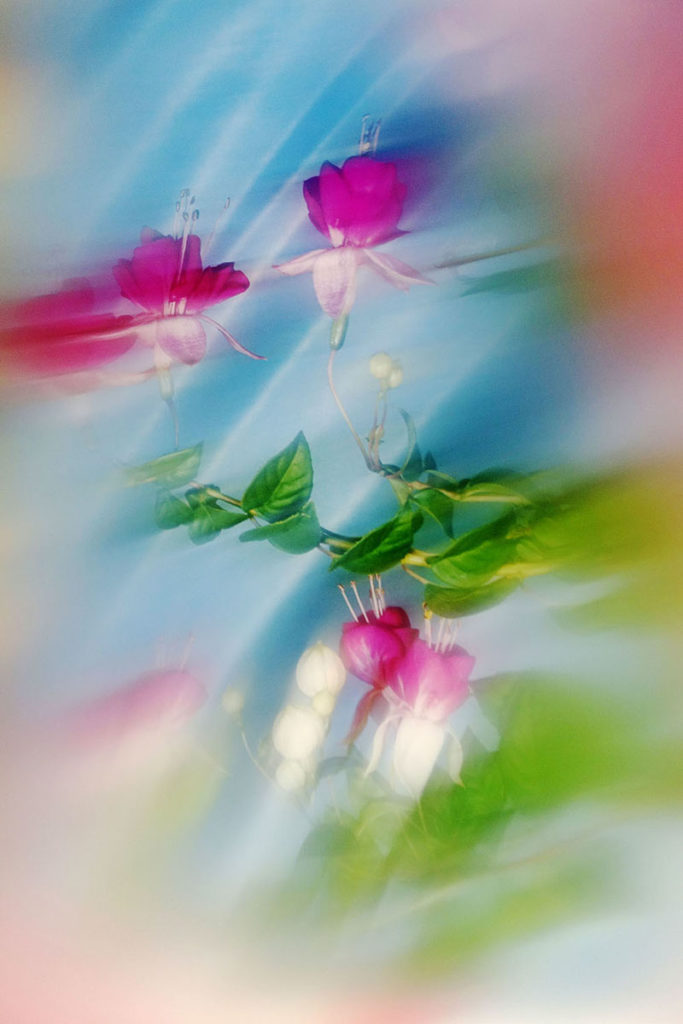 EILEEN RAE WALSH
"The smack of wet palms thrashing in tropical winds, I'm wondering if it was as sexy as I remember. How is it that flowers always seem drenched, more like flowers than other flowers? When peeling an orange, the sky is warming. Is there more anticipation when humid? The image more like eruption, less like fossil. It is fixation, a constant squint in bright blinding hot toned sun and dense shade." (Florida, 2018)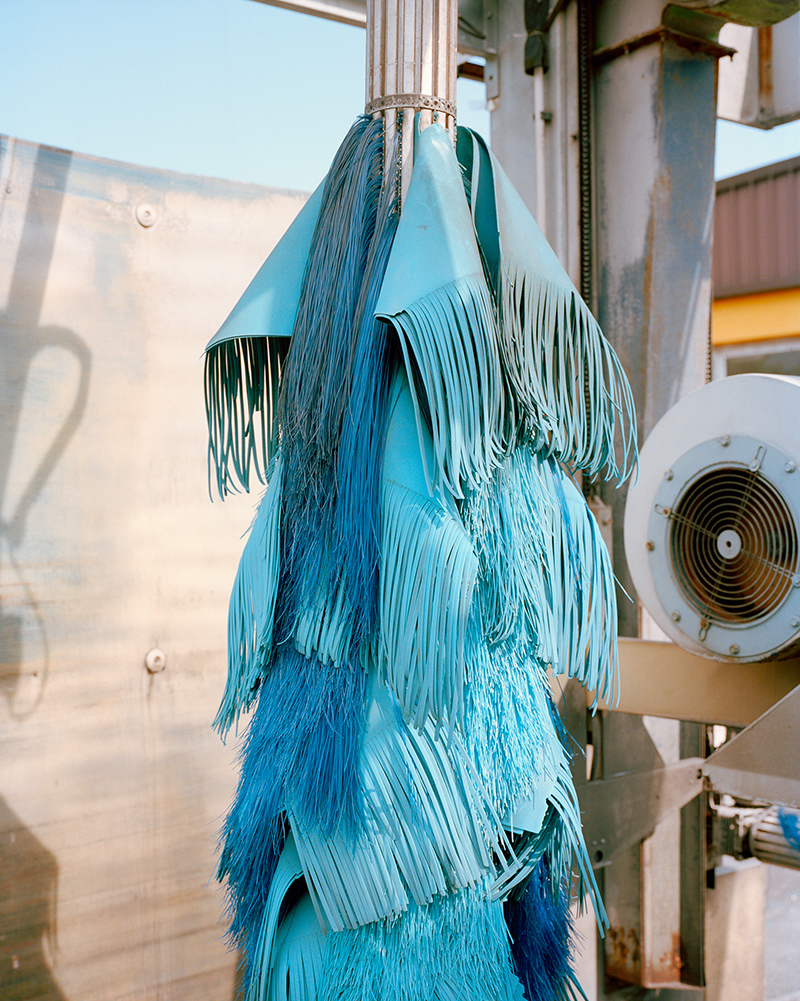 FABRIZIO ALBERTINI
Radici is a story (and the name of the body of work this picture comes from) about resilience. It is a novel of nature, form, and memory. The wright of Radici began in the Cannobina Valley. It starts with a landscape of misty memories and childhood images. Radici is the elaboration of a conflict in the present where success, in terms of life, depends on the act to sustain a form.
I've started by photographing my garden.
I was searching for something close to me.
Today I'm still taking pictures of my vegetable garden,
I can't help it.
I was photographing Radici, only Radici.
I've driven my car up to the Cannobina Valley, the valley
where my grandparents have lived, where my mother
grew up, where I've spent my childhood.
I've done this also because, I have there a very beautiful garden.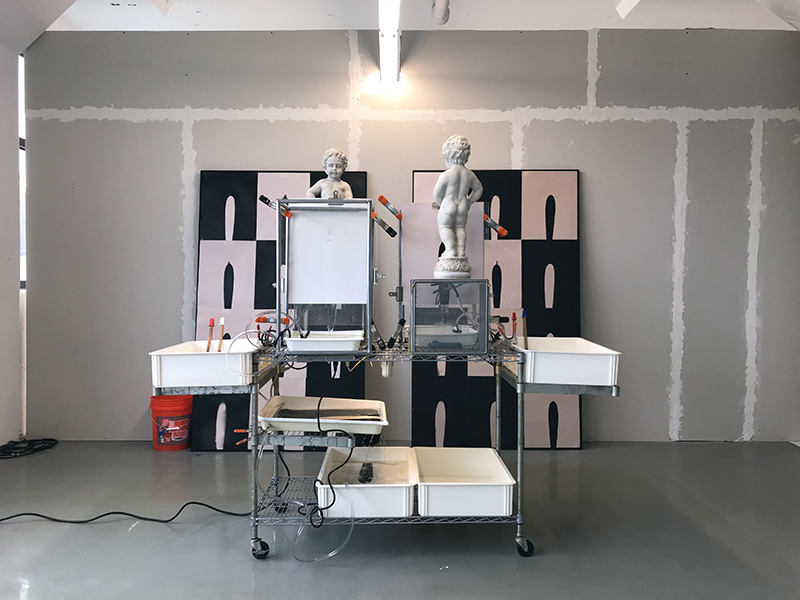 GEORGI GEORGIEV
I constantly examine the creation of photographic images and how they operate I am also trying to locate the limits of photography as a medium and even if they exist. With Manneken Pis I combine objects uncommon to the photographic practice with basic photochemistry, to create a device that produces unique photographic prints. It is both the stage, the darkroom and the recording device all in one. It is, in a way, an inwards-pointed camera the sole purpose of which is not recording what is in front or around it, but rather to record itself recording, as the images produced are both action and the record of it. I humorously vandalize the photographic process, whilst genuinely revering it.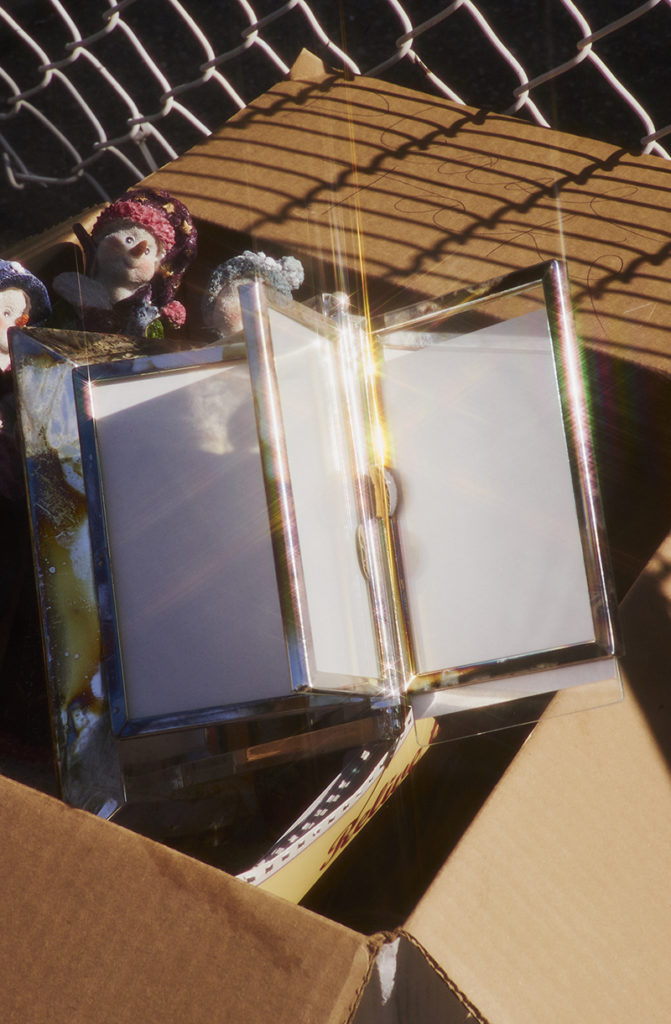 GREGG EVANS
My image in This Is Not Here: RE 21 is a piece I made in 2017 called Momento, from an ongoing project named A Setting Sun, which deals with notions of aging, impermanence, and history, largely focusing on the items we live with on a daily basis and what they say about us.  I like to think of the items, and by extension the photographs I make of them, as contemporary artifacts – like roman amphora or ancient pottery but without the veneer of classicism.  What do we leave behind?  How will we be remembered?  By the monuments and architecture, we create or massive amounts of soda bottles, discarded cell phones and computer parts we leave in our wake?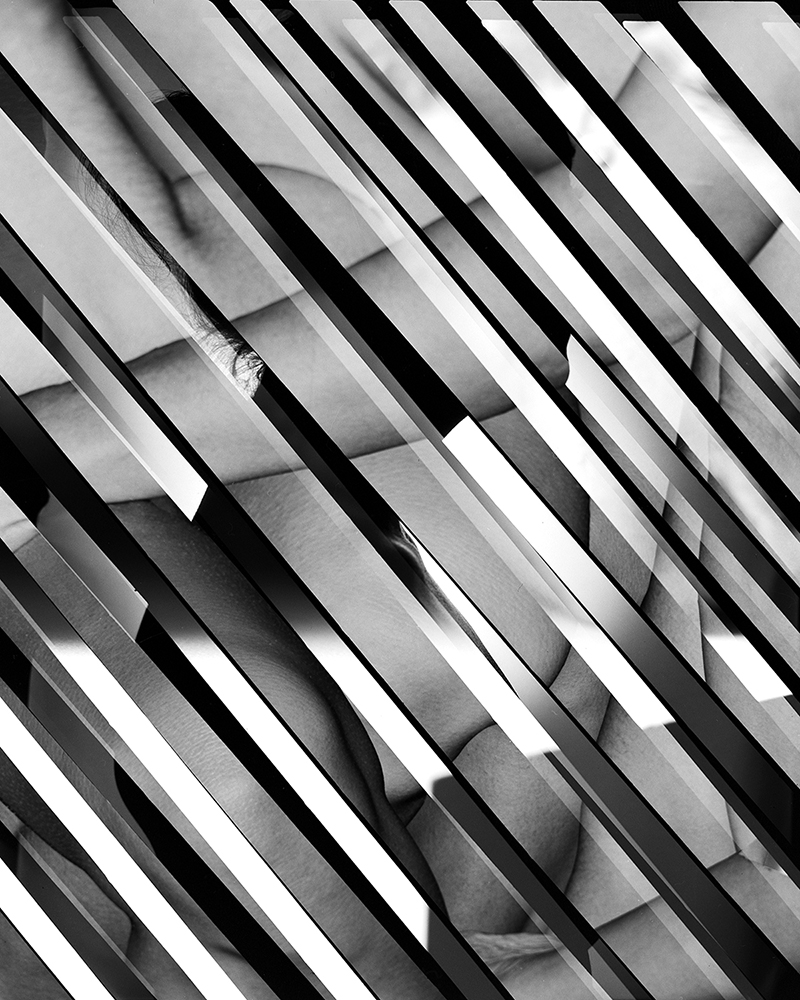 JACLYN WRIGHT
This work combines traditional analog photographic techniques with contemporary digital methods and fabrication processes. Through this hybridized approach I draw connections between historical conceptions of photography's material connection to reality and contemporary notions of its representational infidelity. By using the materiality of photography I am able to mimic the effects of these histories in my processes by disrupting the protective elements of traditional imaging.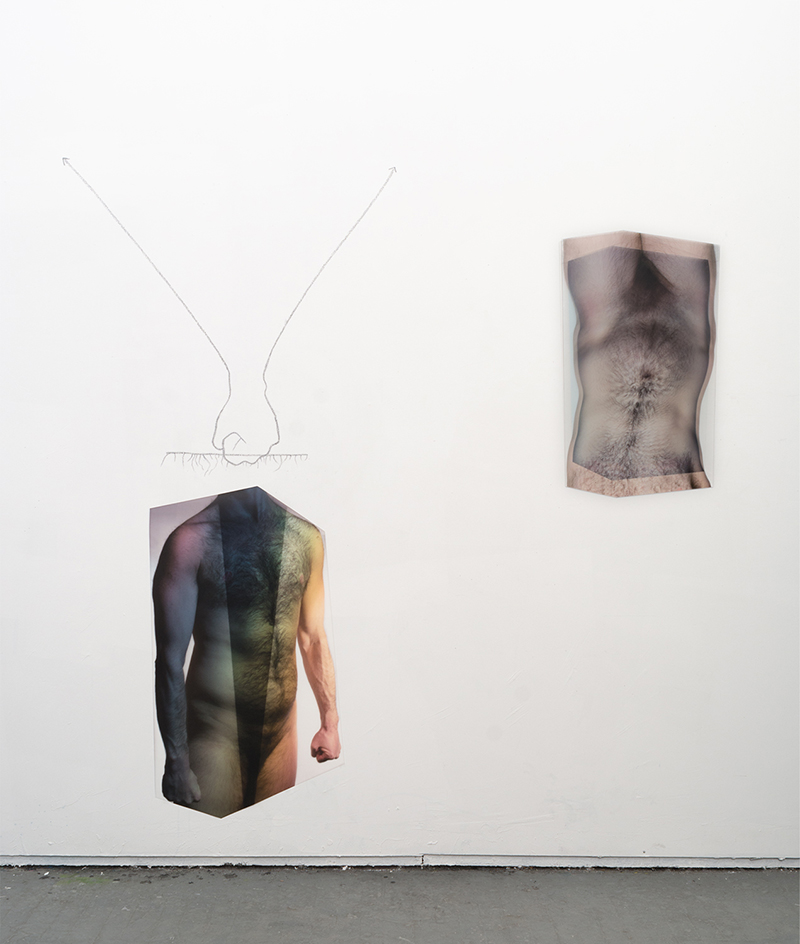 KC CROW MADDUX
These are layered transparent photographs of my transgender body. Because they are printed on clear film, they generate projections behind them when spotlit. They exist as image, object. and something almost like a film. I like the way they speak to the complicated nature of the human form as an embodied experience and an identity signal. "Trans" means across or between. I am developing a language around trans embodiment that disrupts common figurative narratives by destabilizing assumed correlations between body and identity.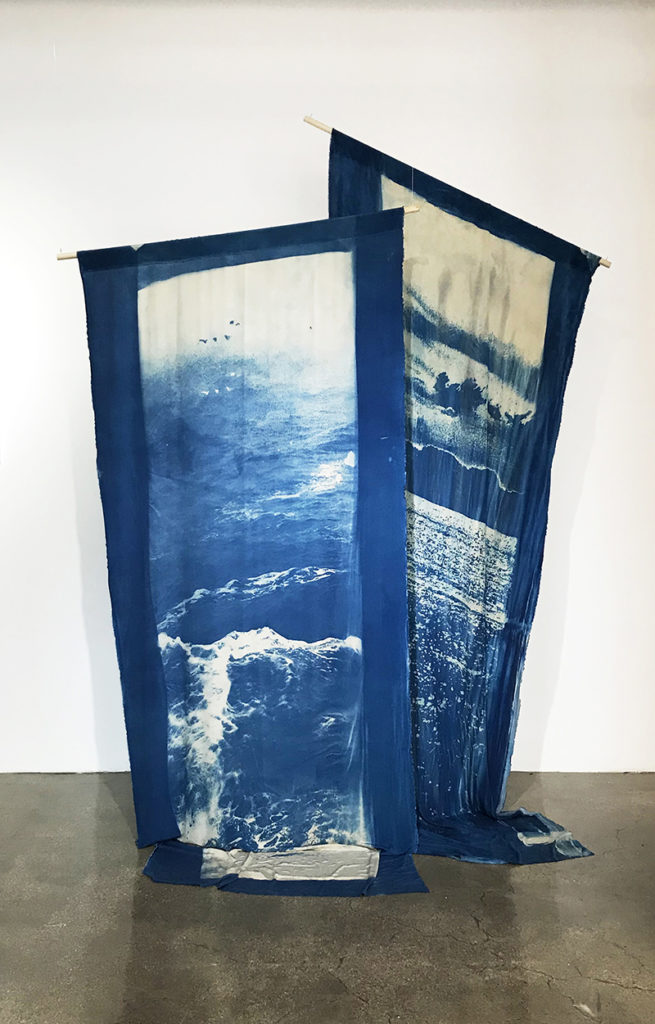 MAGALI DUZANT
The Sea is a digital/ analog archive of the ocean and a meditation on photography as a marker of time within the contemporary landscape. A wave is arrested in motion by the first snap of a digital camera, turned into an analog slide it is reanimated by a projector lens taking the place of the sun, acting as a long duration exposure unit, burned into place on a spill of silk. As the images expose they become less of a direct reproduction and more of a translation of the making of an image; hung in the gallery they represent both the re-contextualization of a memory and a span of time.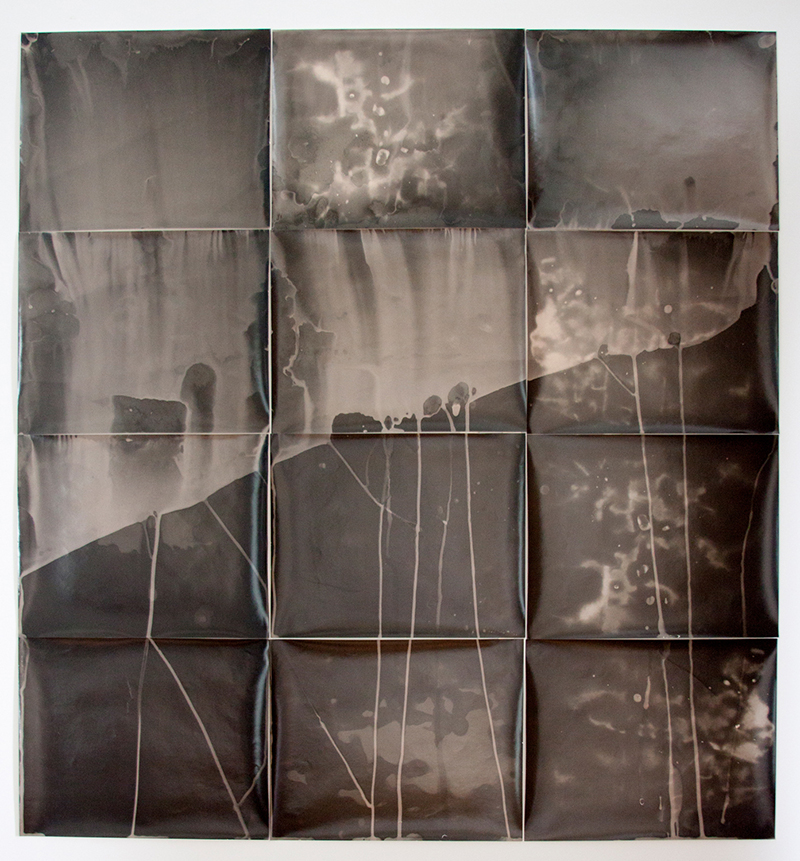 MOIRA MCDONALD
While nature dictates my own images, photography has the unique ability to record it; my role as an artist is to construct and fully realize dialogues between the landscape and the photographic medium.
A photograph of fog. In these images I collected the coastal fog, creating a small puddle of the clouds to dip my silver papers in. The papers were then exposed on an overcast day until the fog evaporated back into the atmosphere.
This picture is the trace of automated nature, of collecting and letting go, of natural breath, of process, and of intervention participation and engagement within the landscape.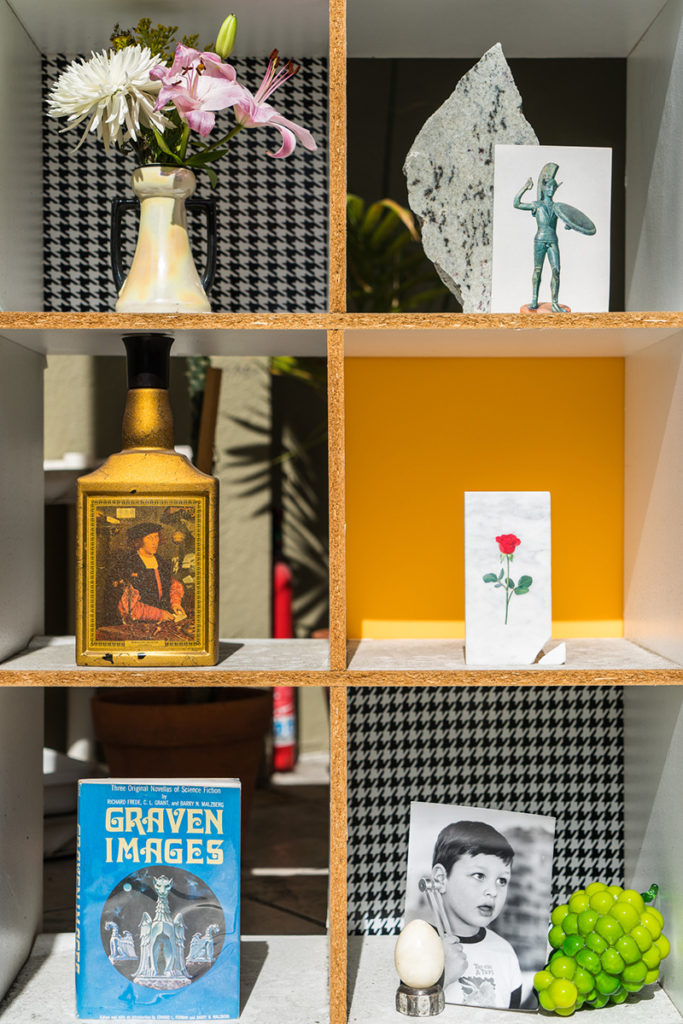 NANDO ALVAREZ-PEREZ
I create vivid color photographs packed with visual juxtapositions which bring about rich associations. The photographs appear flattened and collage-like but depict actual still lifes made in my studio or in the world. They exude a kitschy quality that mirrors the vast range of imagery we encounter in our consumer-driven, late capitalist culture.
I often merge the photographs into sculptural installations that draw upon the material languages of interior design (wallpapers, rugs, etc.), trade fairs (free-standing "booths"), and science-fiction (extruded aluminum frames, a material which frequently shows up in sci-fi film and television) reflecting my interest in exploring how we live with art objects, both avant-garde, and kitsch, as well as the relationship between art, history, and capitalism.
Each of my photographs is a digital capture and the reproducibility, scalability, and material flexibility of every image file is inherent to its nature. I consider each installation to be a sort of restaging of its constituent images, which are liable to appear and reappear in new situations or contexts.
I hope that together, the work works to break down the vanity of western art history and to reveal how so many of the elements of high modern avant-garde thought–positivist history, the gap between nature and culture, even the notion of the avant-garde itself–have been reproduced ad nauseum in the age of high capitalism, to the point of reducing them to (or revealing them as kitsch.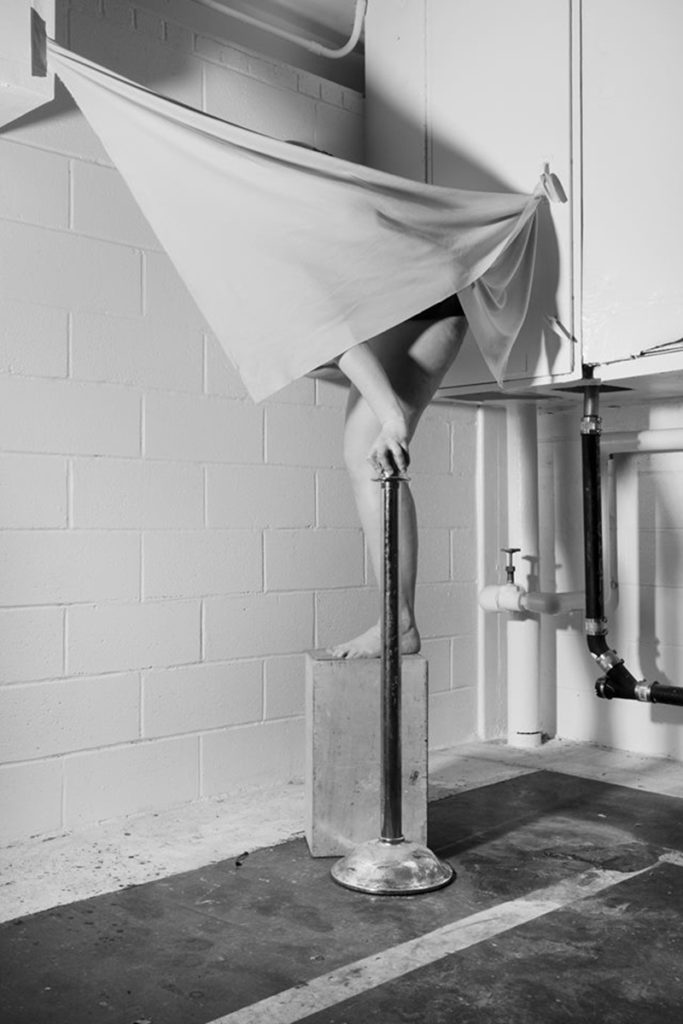 PATRICIA VOULGARIS
I created my piece for This Is Not Here: RE 21 specifically for the show in the Pfizer building. It was an interesting experience creating a self-portrait in a space that is so unique. The industrial aspects of the space are an extension of my body. Memory is always relevant; all we have is time. Our bodies exist for the sole purpose of remembrance. I look at a lot of work; I reflect on my creative practice and combine a mishmash of ideas into something new and true. I always found my work to be more about theory, process and our attempt to understand the world that surrounds us. We create space physically and subconsciously, where the body dictates both actions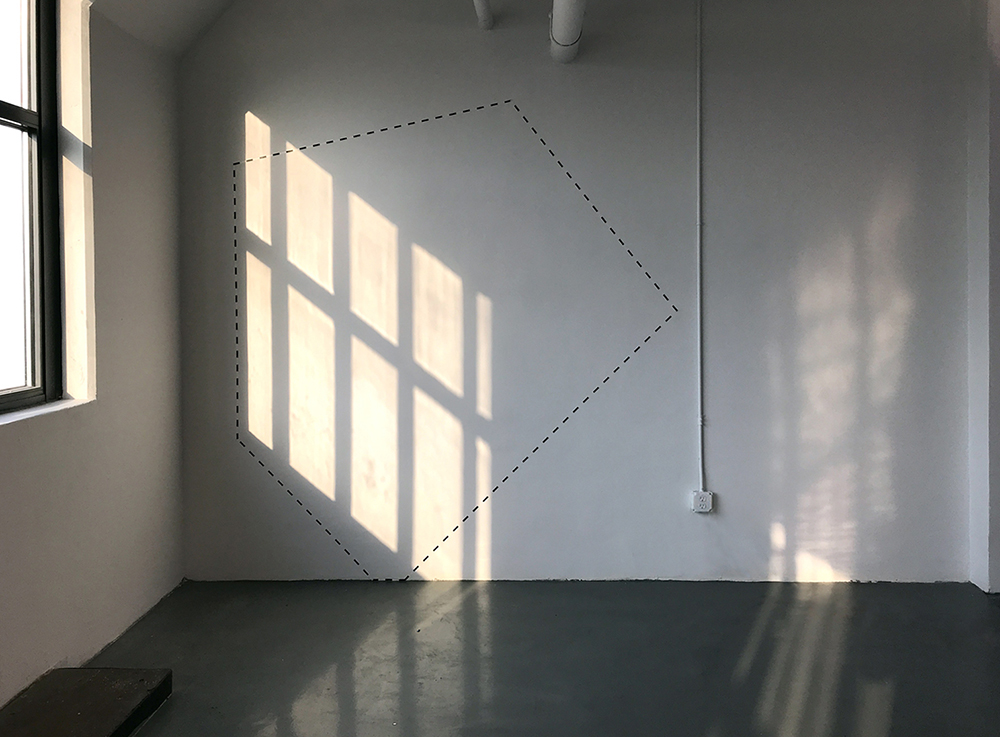 VALERIE GREEN
The site-specific installation "Selection #3, 2018" is made with a tangible representation of "marching ants," which I also use in the studio as both a mark-making tool and sculptural device. In their primary form, these black and white dotted lines are a way to designate a digital area where some sort of action will take place – a movement, addition, alteration, or deletion.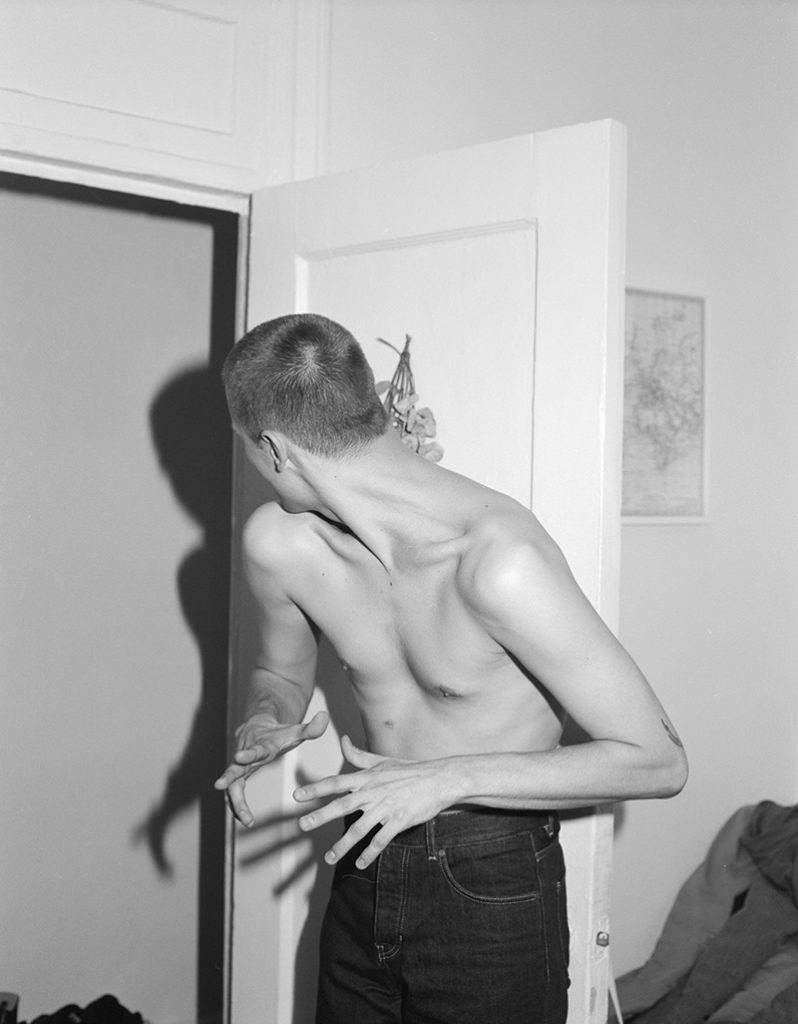 DANIEL RAMPULLA
For the past six years I have been photographing queer people and the spaces they and I inhabit, intending to capture the mix of feelings provoked by existing in these spaces – excitement, anxiety, confusion, comfort. The desire for recognition and familiarity is often compounded by tense trepidation and insecurity.
---
This is Not Here: RE 21 is on view until June 17 at the Pfizer building, 630 Flushing Avenue, Brooklyn, New York 11206.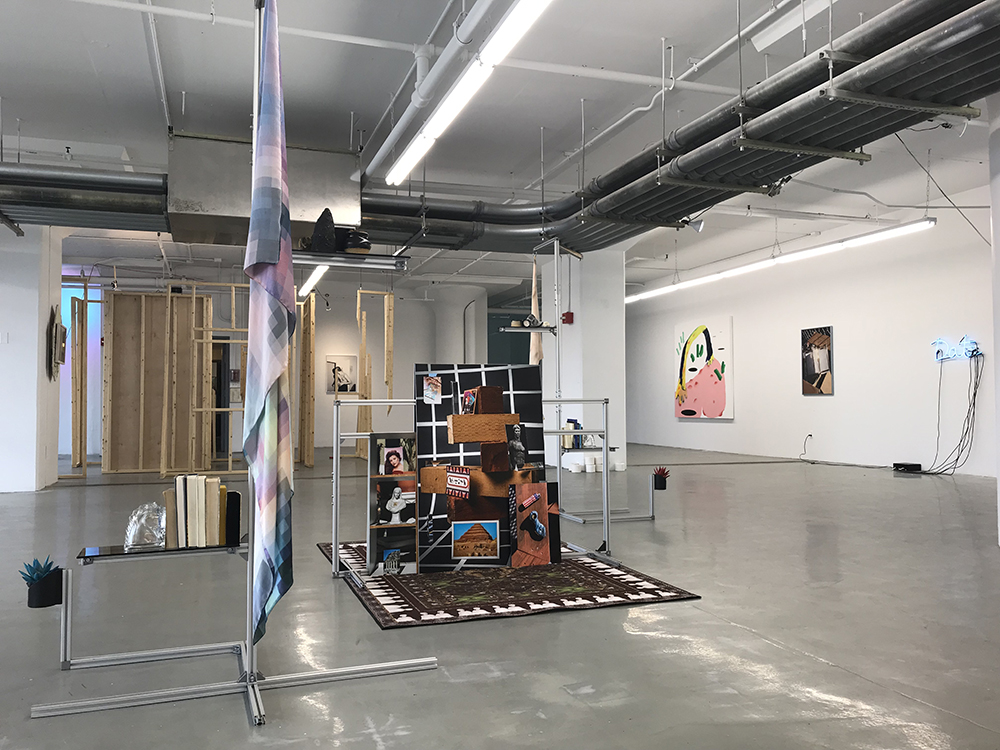 ______________________
Stay connected with In the In-Between
_____________________________
Submit your work