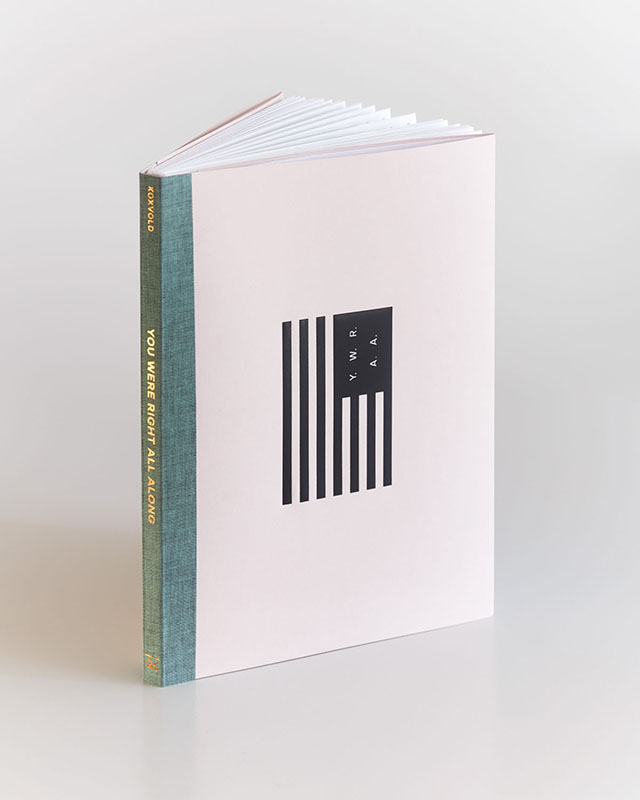 You Were Right All Along by Jason Koxvold. Gnomic Book, 2018.
Softcover, 190x240x14mm, 144 pages, 73 images
Edition of 25; First edition, first printing
________________________________________________
Efrem Zelony-Mindell
Truths are tests of typical normalizing topography, but nothing about most of what's going on is normal. Normal is firmly strapped to the flight of a flock of thoughtless albatross. And maybe, most definitely, we're all to blame. The state of our state is smothered in the sound of estranged climates. In the folds of Jason Koxvold's book You Were Right All Along, there is a fresh entanglement of the hell that locks inside an obsessive mind. The links of lives from lands unseen soak the serendipity of a story that may possibly lack a specific protagonist. I sat down with Koxvold and asked him to start from the beginning; what I incited in him is a reflection of this book and the work he makes. I don't get the impression that You Were Right All Along started as a specific body of work; rather it has amalgamated from the labor of peculiarity and consideration that has befallen the occurrences of Koxvold. He is removed, but he is the book's arbiter.
Open the cover and find the folds and perforation of a seemingly endless zigzag of handmade binding printed on Dot Matrix paper. There is no specific place, only the familiarity of faces and landscapes and printed messages from a machine that you can almost hear. The grinding force of its back and forth lives inside Koxvold's book. There are opposites with odds and ends to figure out. A book isn't quite what You Were Right All Along should be called; it starts there, but only because of its covers. Inside a complete thing filled with contradictions blooms. Becoming accustomed to the organic and radical is a natural thing to happen. The book becomes an effortless metaphor in language and body to the Republic of the West. The expression of function and degree of craft are trapped or protected. Almost by accident viewers are invited to read as deeply as they want. It is a deep pool of questionable capitalism and the rise of wonderful conspiracy. The truths and achievements of a realized science fiction are the kinds of thoughts that litter the words of a paranoid's politics on every page.
There are so many kinds of photographs in Koxvold's book that a realization strikes; he is so efficient at what he wants to say that he makes images of exactly what he wants. And his work is so thoughtful that he just has to figure out the engineering of it all later. But that's an oversimplification. He's not flippant; it feels effortless because Koxvold has worked so hard. He is searching for interpretations of good or bad. Do such things even exist? The accessibility of interest scorches the earth and terrain of this book's narrative. And there I was in his living room, feverishly trying to take notes when I noticed an LED sign with alternating quotes. I remember one, "I enjoy fireworks, but stars is nice too." I have been ensnared by the climate and realization that all images are manipulation. It's easy to forget where you are when all you want is more solutions, arrivals, expositions, revelation. You Were Right All Along is an excursion.
The id is perhaps the soundest hero of this story. The self of the wandering reader. An archivist, archeologist, a human yearning to assemble some sense of reality from a collection of odds and ends from lands unknown yet somehow right at home. The story is bestowed by the plight of individuals. It is a rolling thunder of gut reaction and desire to wonder what is going on, and what role do I play? The wishes of few are executed by the many and maybe the solution won't be found until it is spoken out and fired up! You Were Right Along is not a child of what ifs, but what can we. Productive candy sits in the slump of the weary that rise up and desire to push back. With shouts and silence, activism and mindful scholarship, this book is a necessity, a tool of the necessary because it provides the ability for options, opinions, and challenges that require imaginative solutions.
___________________________
More information about You Were Right All Along may be found here
____________________________________
Stay connected with In the In-Between
_____________________________
Submit your work