Another Twenty-Six Gas Stations
by Gregory Eddi Jones
with an Afterword by Lance Speer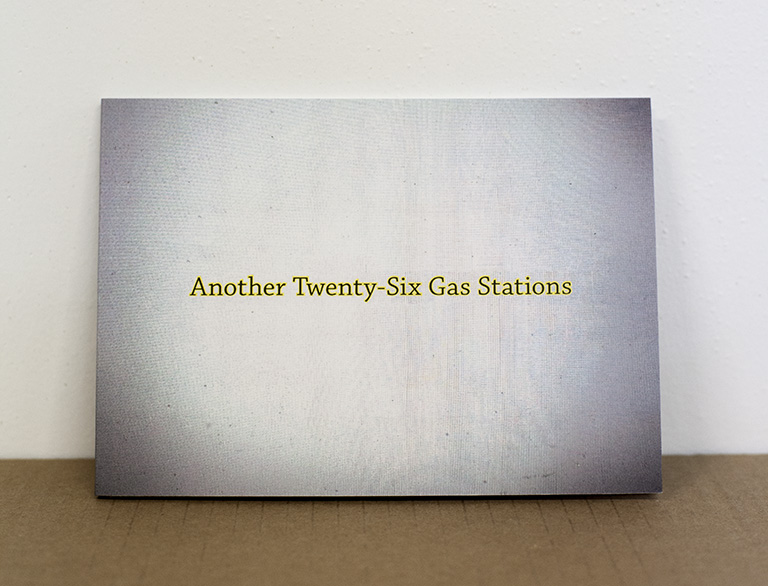 Another Twenty-Six Gas Stations is a new media artist book comprised of twenty-six screen captures culled from gas station surveillance videos found on YouTube. The book blends notions of surveillance, crime photography, advertising, and found text;  which together forms an incisive dark-humor commentary on advertising and violence within the framework of online consumption.
Fifty-one years after the publication of Ed Ruscha's seminal book work, Twentysix Gasoline Stations, Another 26 examines how the American Identity has shifted from the idyllic media messages and car culture of the 1950s and 60s to the coarse post-9/11 age we occupy today.
Within the book, the image-text relationships work to form interweaving layers of meaning and interpretation.  The sequence ties together formal properties, textual interplay, narrative sequences, as well as several discrete visual puns and references to Ed Ruscha. The book's elements create a meditation on morality and mortality, which challenges the viewer to either succumb to her own fascination with the violence depicted or to look beyond the surface to discover the critique embedded within.
Another Twenty-Six Gas Stations is the debut book by Gregory Eddi Jones, artist and Founding Editor of In the In-Between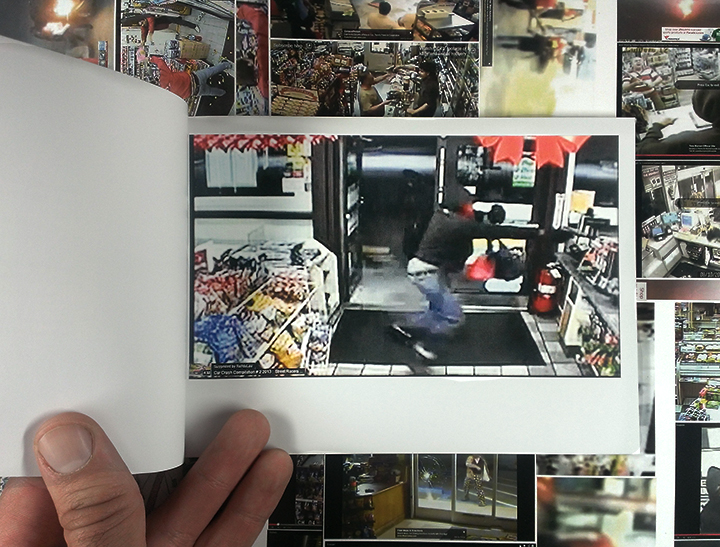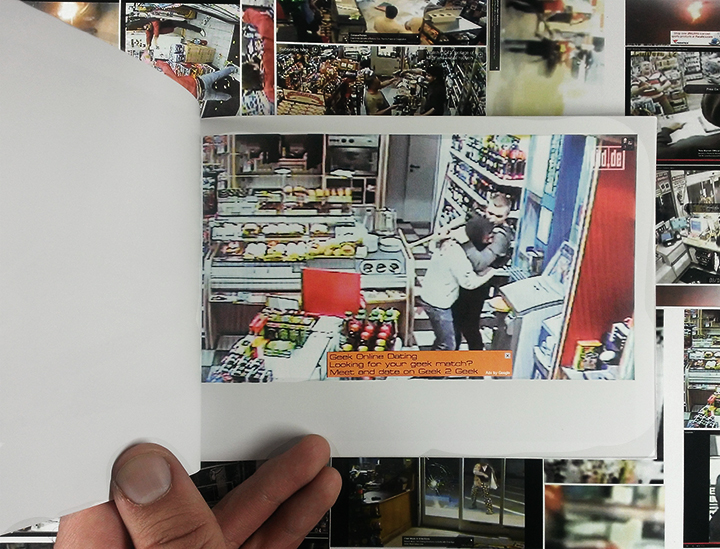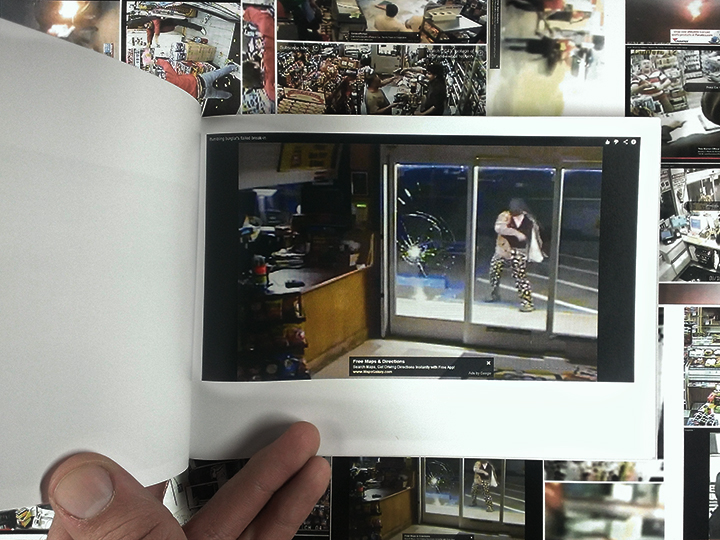 Publication: October 2014
Edition Size: 450
Dimensions: 7″x 5″
Number of Pages: 48 pages
Number of Images: 26 images
Perfect Bound
ISBN: 978-0-692-21771-9

Afterword by Lance Speer. Download here.
Price:
$20 US & Europe
$15 Public Collections
+ $5 for shipping
Recent Press
Actuphoto (Review [French])
SuperMassiveBlackHole (Review)
Post-Digital Publishing Archive (Feature)
Musee Magazine (Review)
Who Needs Another Photobook Blog (Review)
Josef Chladek's Virtual Bookshelf (Feature)
Public Collections
-Visual Studies Workshop
-Brooklyn Museum of Art Library
-University of Rochester Library
-Mills College of Art Library
-Light Work
-Indie Photobook Library
-Fleet Library at Rhode Island School of Design
-Philadelphia Photo Arts Center
-Avery Architectural and Fine Arts Library at Columbia University
-Decker Library at Maryland Institute of College of Art
-Langson Library at University of California-Irvine
-Vernon R. Alden Library at Ohio University, Athens
-Memorial Library at University of Wisconson-Madison
-Morton R. Godine Library at Massachusetts College of Art and Design
-Minneapolis College of Art and Design Library
-Scott Library at York University
-Franklin & Marshall College Library
-Library at Columbia College Chicago
-John D. Rockefeller Jr. Library at Brown University
-Luke Lindoe Library at Alberta College of Art and Design
-Seattle Art Museum Library
-Athenaeum Music & Arts Library
-Thomas J. Watsom Library at Metropolitan Museum of Art
-Richard and Ronay Menschel Library at the George Eastman Museum
Bookstores
Visual Studies Workshop Bookstore- Rochester, NY
Flotsam Books- Tokyo, Japan
L'Ascenseur Vegetal- Bordeaux/Paris, France
Printed Matter- New York, NY
La Fabrica- Madrid, Spain
House of Photography- Hamburg, Germany
Spoonbill & Sugartown, Brooklyn, NY
Institute of Contemporary Arts, London, England
Artphilein Editions, Lugano, Switzerland
Exhibitions
Ed Ruscha: Books & Co. Gagosian Paris. 3.12 – 5.7, 2015.