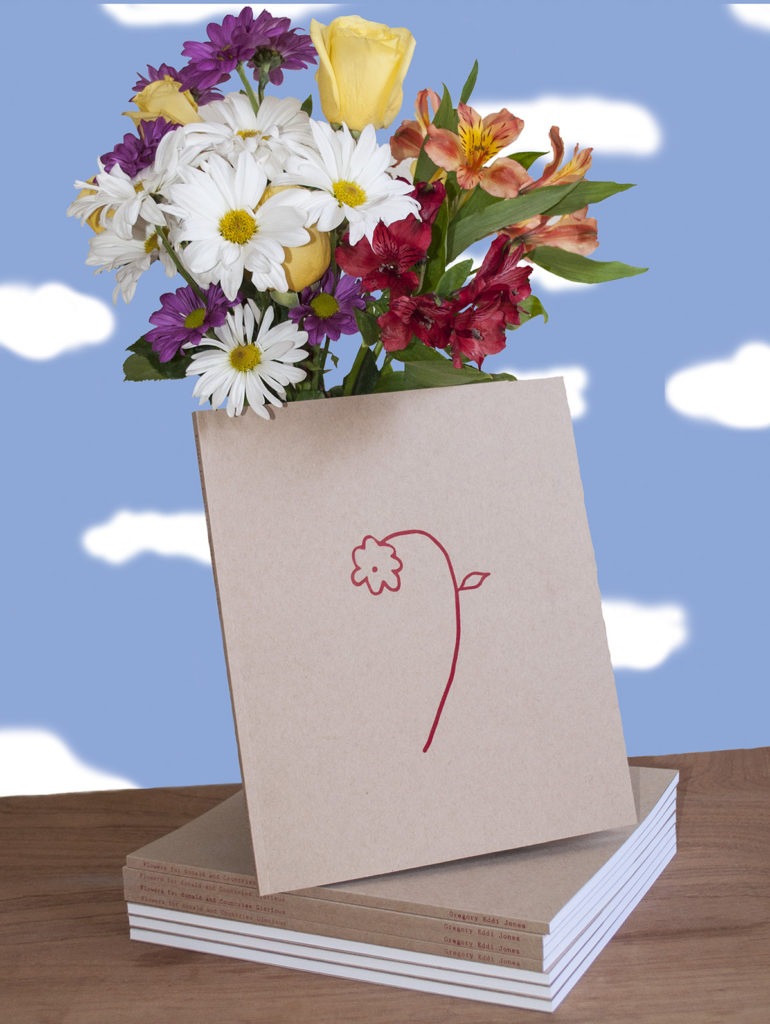 Flowers for donald and Countries Glorious, by Gregory Eddi Jones
– 2nd edition (artist's edition [American edition]).
Publication date: December 2018
Edition size: 150 copies
Dimensions: 10.5 x 8.75 in
Page count: 70 pp
Plate count: 30 Color and B&W images images
Perfect Bound
ISBN: 978-0-9967086-2-3
– Speech-poem Afterword, Countries Glorious, by Donald J. Trump and Gregory Eddi Jones
-Printed by Conveyor Studios, Jersey City, NJ.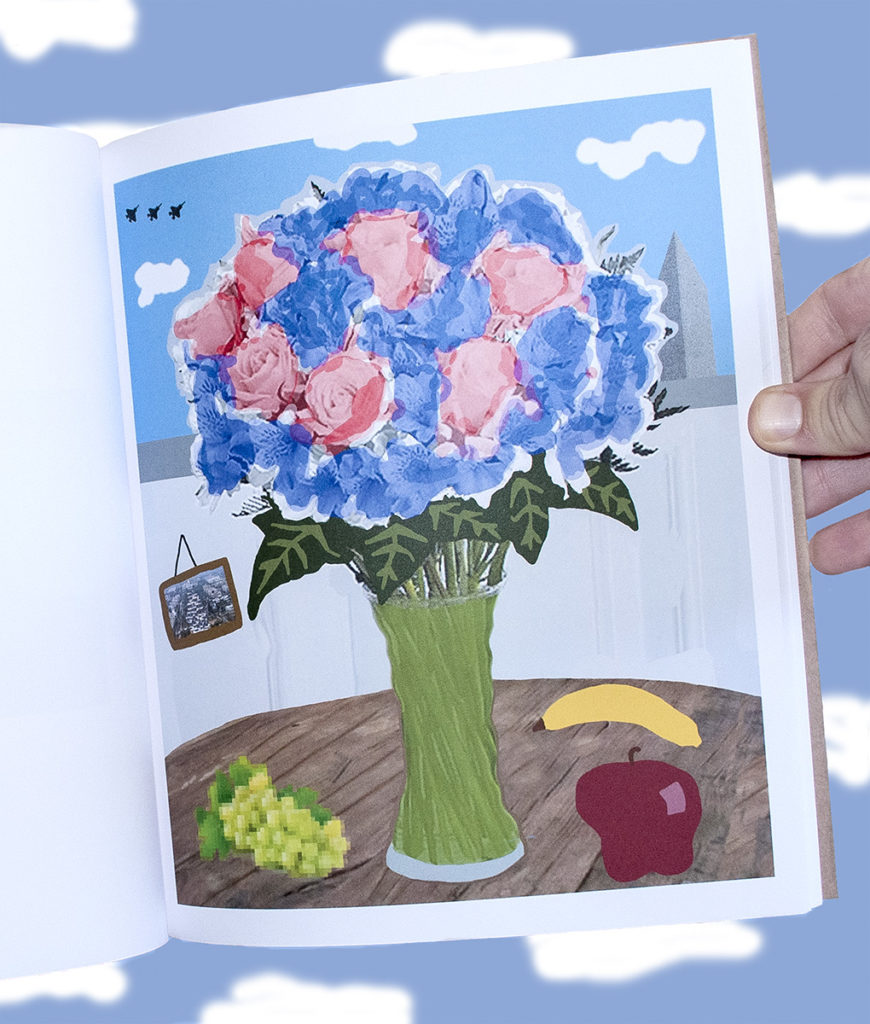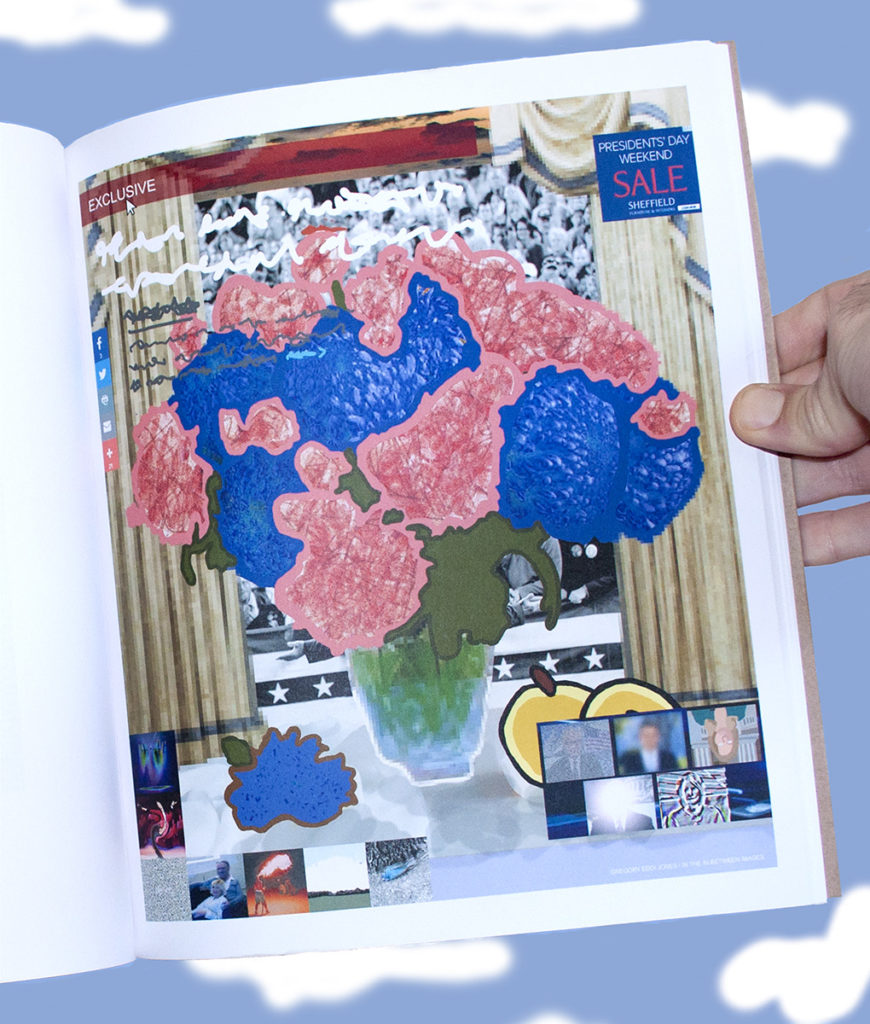 Buying info
-$35 United States, shipping included
-$45 International, shipping included
-$45 to include a limited, special edition print, Press Room (see below)
About the work
Flowers for donald is a series of digital collage work begun in the days following the 2016 U.S. election. The work borrows the symbolic potency of flowers to act as anchor points of protest, memorial, and reflexive connotations of enduring beauty within the traditions of art history.
Within the vein of Jones' Dadist antecedents, Flowers for donald challenges the role and function of art itself in politically turbulent times. Ultimately, the deepest layers of Flowers exist as a testament to the confines of art, and a realization that critical artwork which seeks to mirror its social context is restricted to reflection; within which the visions cannot be touched, grasped or altered; only witnessed.
About the book
Flowers for donald and Countries Glorious is a new artists' edition which follows up on the original publication of Flowers for donald by Urbanautica Institute in Spring 2018.
Upon completion of a crowdfunding campaign, the original 1st edition was sold out.  The majority of copies in the edition were shipped to the United States in May 2018, where they mysteriously disappeared upon reaching U.S. Customs. Every effort to locate the parcel has come up short, and we have yet to receive an explanation from government officials on the presumed seizure of the books.
This new American edition will be printed in the United States as an expanded volume containing 8 new images and a new design. American contributors to the original fundraising campaign who are still waiting to receive the original book will receive a free copy of this new edition.
What people have said
"Perhaps 'Flowers for donald' beckons us to look a little closer. What is the role of art when the world around us is absolutely turbulent? What is reflected back at us when we make art under conditions of unignorable political circumstances? 'Flowers for donald' utilizes a classic art motif to start to unpack these questions."
— Digital America
—————–
"While Jones' convictions are unavoidable, his tools extend beyond didacticism, nodding equally to the history of still life as they do to his political intents."
—Jon Feinstein
—————
"Jones' stream-of-consciousness Google search activity and off-the-shelf effects lend surreal external form to America's disordered psyche"
-Ben Burbridge
—————-
"Thank you for contacting the White House. We are carefully reviewing your message.
President Donald J. Trump believes the strength of our country lies in the spirit of the American people and their willingness to stay informed and get involved. President Trump appreciates you taking the time to reach out.
Sincerely,
The Office of Presidential Correspondence
—The Office of Presidential Correspondence
---
Selected Press: