Statement:
This project investigates the idea of using computation to "use up" a piece of technology, in this case a digital camera. Using custom-written software (and a very long period of time), every possible photograph is generated, one at a time and in numerical order.
Though limited to eight colors at a very low resolution, the piece will take approxiamtely 46,138,562,195,008,110,600,774,753,760,087,749,172,181,189,607,929,628,058,548,517,099,604,563,033,706,075 years to complete (assuming the computer runs flawlessly 24 hour a day). By way of comparison, the universe is 13,770,000,000 years old.
The idea that extremely useless labor is interesting is central to this project, as is the eschewing of the utility of data and its representation in traditional visualization work. Attempting to create every image a camera is essentially a time machine; somewhere in the set of images and alongside billions of "meaningless" others are a photograph of me, a photograph of me if I didn't get a haircut last week, and a photograph of me with someone who I have never met.
Additionally, this project interrogates the meaning of the camera. If the camera didn't 'see' those events, are they real? They look like real people, but aren't. Consider images created this way that are illegal (child pornography, for example): they are not 'real' but depict something very real.
________________________________________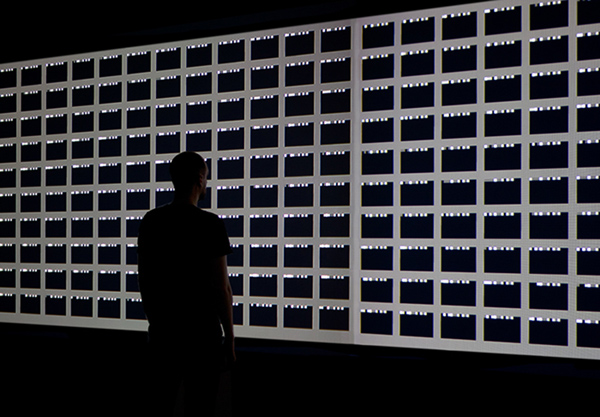 ____________________________________________________
______________________________________
Bio:
Jeff Thompson received his BFA from the Minneapolis College of Art and Design and his MFA from Rutgers University. He is currently Assistant Professor and Program Director of Visual Art & Technology at the Stevens Institute of Technology in Hoboken, New Jersey.
Thompson has exhibited and performed his work internationally at venues include the Sheldon Museum of Art, the Taubman Museum of Art, SITE Santa Fe, Bemis Center for Contemporary Art, the Jersey City Museum, and the Weisman Art Museum. Recent commissions include Rhizome, Turbulence, and a project on haptic and non-visual videogames fromEditor's Note: This feature was originally published on our previous platform,
In the In-Between: Journal of Digital Imaging Artists
.
___________________________
Stay connected with In the In-Between